Aren't dustbins one of the most important things ever invented? It's a critical situation these days in terms of how to keep the city and country clean. While you have been seeing Swachch Bharat campaign all around the country making us pledge to keep our surroundings clean, I am going to tell you somewhat a different story today.
Since a few days I observed that the dustbin which was assigned near my desk is missing. I do have one around which I can use to dispose trash but the absence of it has fortunately left me with an idea to write a post on. Isn't that great? We never know what will inspire us to write, so whenever you fall under the trap of writer's block, try and observe and I am sure you will land up with something amazing to write.
Coming to the point, I want to emphasize on the trash of our thoughts. Depression is on rise, people are committing suicides and it is no joke, yes some people can make joke about anything. What is the cause of all the sad things happening around the world? Why are we surrounded by so much of negativity that we can't focus and perform? I think the root cause is the lack of disposal, disposal of all the trash that's going on in our heads. We do not put effort to throw out everything which is uselessly bothering us. Over thinking has ruined lives. We all know that certain things will not change, yet we hope, we suffer, we glorify pain in the name of being strong but at the end somehow we know what it will end up in. What we need to start doing is accepting and moving on. Yes, that's nothing new told here. But, you know what? A little reassurance always works. And trust me, I have recently been through a lot of such situations which pushed me down the depression lane but luckily in time I pulled myself up just by some simple steps which I am going to reiterate here.
Are you also suffering from over thinking, self hurt, guilt, anger, frustration, pain, regret and much more? I am sure a lot of you can relate to this. The key is to start small. Distract. Distract yourself from the thought itself by doing something you love, something which makes you happy, something which makes you believe in yourself.
Love to play guitar? Do it now. Love to write? Why not pick up a pen and paper or blog? Love to socialize? Why not call up that friend and meet for a beer or two? Love talking to parents? Why not dial up that number on speed dial and just talk about anything under the sky with your mother or father?
These are just examples which I can think of. Each one of you has an identity, interests and a beautiful soul and mind. The world is yours. Your story is not over yet. I read this at Project Semicolon, which inspired me to get a semicolon tattoo on my hand. It made me feel good, I just went ahead and got it done. That's the point. Making sure you do what fills you with joy, in this moment. Waiting just makes it worse because waiting makes more space for unnecessary thoughts and we do not want to do that right?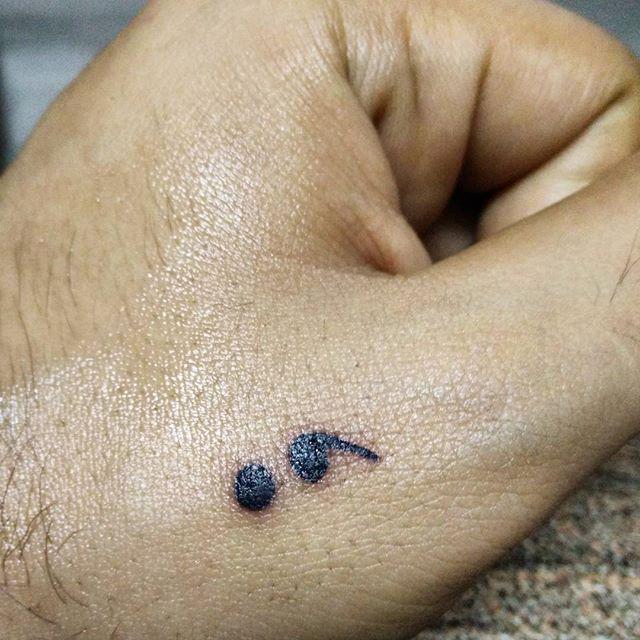 Once you start practicing this, you will eventually find ways to trash what is not needed. You need to build your own dustbin and decide what to throw, what to keep, what to recycle, what to reuse and what to treasure. I hope this message reaches the right people and helps because, friends, life is indeed short, and your being, your joy, your feelings, your emotions, your smile is very very important. Do not underestimate anything about yourself. You are important. You are valuable. You mean a lot to a lot of people. This life is your precious gift. Making it big doesn't define your achievements, it's these small decisions which help you live long for I believe that being happy, content and at peace is the best form of success.
Don't you know how many people are ready to trade their entire materialistic achievement for peace? I think this should answer a lot of your questions.
Signing off with demanding a small favor from you, if this really helped you, go to the mirror, smile for real, text someone you love, call someone you can't wait talking to, hug someone you miss a lot, eat that piece of cake, drink that cup of coffee, listen to your favorite song 100 times in a row, but when should you do this all? NOW!
I am taking my Alexa rank to the next level with Blogchatter.